One of a kind gift for a heartwarming reaction
Full customization
We offer different templates, different font options and a longer letter format.
Adaptability
You can change the layout, write in a different language and more.
In safe hands
Dedicated, friendly customer service to handle your requests & answer all your queries.
Eco-Friendly
We use Carbon neutral shipping from the USA, the most eco-friendly shipping method that exist today.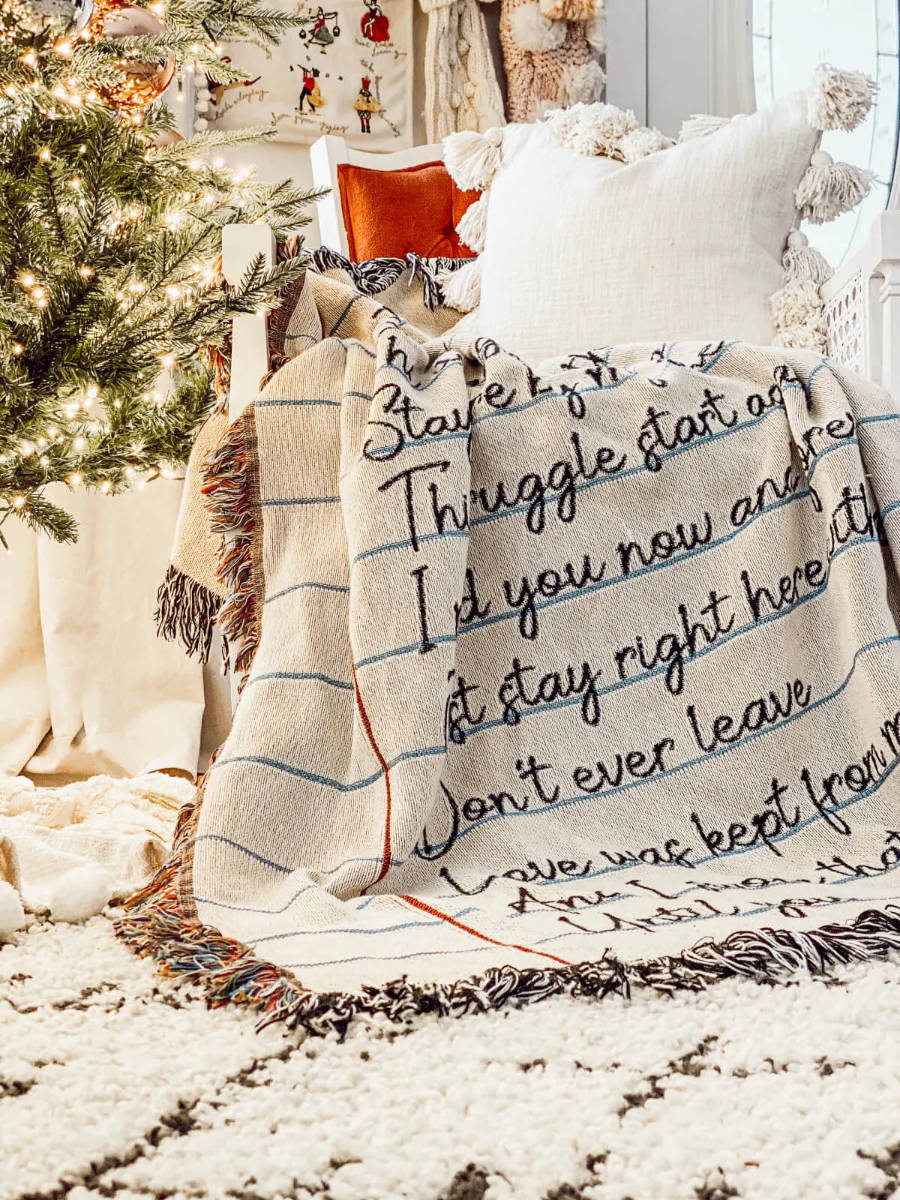 ---

---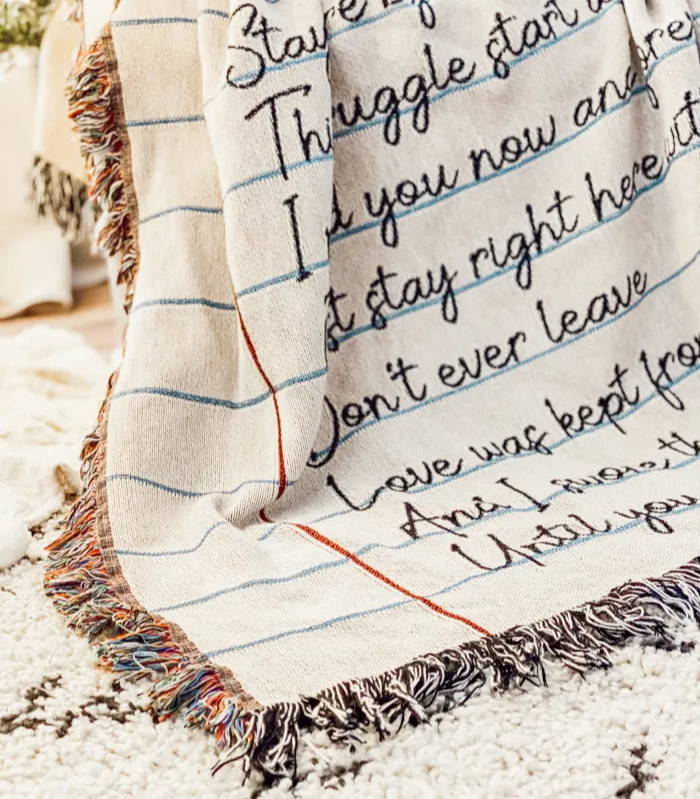 The perfect huggable companion
Thick, soft, and cozy to be your companion during cold nights and afternoon naps. Professionally crafted to last many years.
Our love letter blankets are fully woven, with no printing involved, which makes them way more durable. Furthermore, they are machine washable.
Premium Quality, Made in the USA with love
Satisfaction & Emotional reaction guaranteed
Easy to make, unique & thoughtful with your touch
100% Cotton, strong enough to last for long as a nice memory
Our realistic fonts are a fast and an elegant way to create a handwritten letter blanket without the need to print or scan anything.
To use this option, simply click "Pick a font" then choose an option: "Handwriting font", "Standard font" or "Typewriter". Then, type your letter and do not forget to check your spelling.
Want an actual handwriting letter blanket? We make it easy for you to use your handwriting. This adds a special touch to your gift and makes it more unique.
To use this option, you only have to print our downloadable template and write your letter. Then, upload it by clicking "Upload file" located above the "Add to cart" button.
I don't want to write a letter, can I write something else?
Yes. You can write anything you want.
Notes, Messages, drawings, wishes, poems, signatures… The options are really endless.
Can I upload more than one image?
YES! You can do that by grouping all the images into one file, like a PDF or a compressed zip file. The other option is just join one image and send us the rest via email to hello@oraluna.com, do not forget to indicate your name or the order number.
Tip: Include specific instructions on how you want all your images to be placed on the blanket, to do this, add your item to cart, a note box will appear on the cart page, that is where you can put your instructions.
Can I write my letter in a different language?
Yes! Of course you can! All languages are supported. Just while placing your order, make sure to use an email address that you log in so often. Sometimes we require your final approval before starting production. This way we assure you'll be 100% satisfied with the look of your blanket.
What is the blanket made of?

The Blanket is 100% Cotton.
I don't know what to write, can you help me?

This is common, but do not worry, we have made a blog post to help you write your meaningful letter blanket. Check it out here.
Which size should I go for?

That depends on your desires but here is some general info that you might need:
37"x52" Mini size (usually but not only) for kids, or a chair blanket

60"x50" Standard size and the most popular size for adults, great for throwing on a couch.

80"x60" Fits a few people, can be used as a bedspread. Approximately the size of a queen size bed (just the top, not hanging down the sides).
I have made a spelling error, can you fix that for me?

If something went wrong, please contact us ASAP! We can fix that for you IF your blanket isn't in production yet. That means you have to contact us within 24hours after you placed your order.
When will I receive my order?
We will start working on your order 24hours after we receive it.
The average turnaround time is 4-8 Business days. Then, depending on your location, the shipping time is:
1-3 business days on average within the USA.
3-13 days for international orders. (This is due to the current global situation.)
Do you ship to my country?

Yes. We do ship worldwide.
Are Taxes Included in the price?
Yes! Taxes are included in the product price.
I have an issue with my blanket, can you fix it for me?
Email hello@oraluna.com or dm us on Instagram/Facebook.
---
---