How many times have you found yourself thinking of a loved one who is far away and wishing you could somehow wrap your arms around them, so they knew without question how deeply loved they are?
We understand how difficult it can be to convey the depth of long-distance love, so we're offering an incredibly unique product that creates a special connection between you and your loved one, no matter how many miles separate you…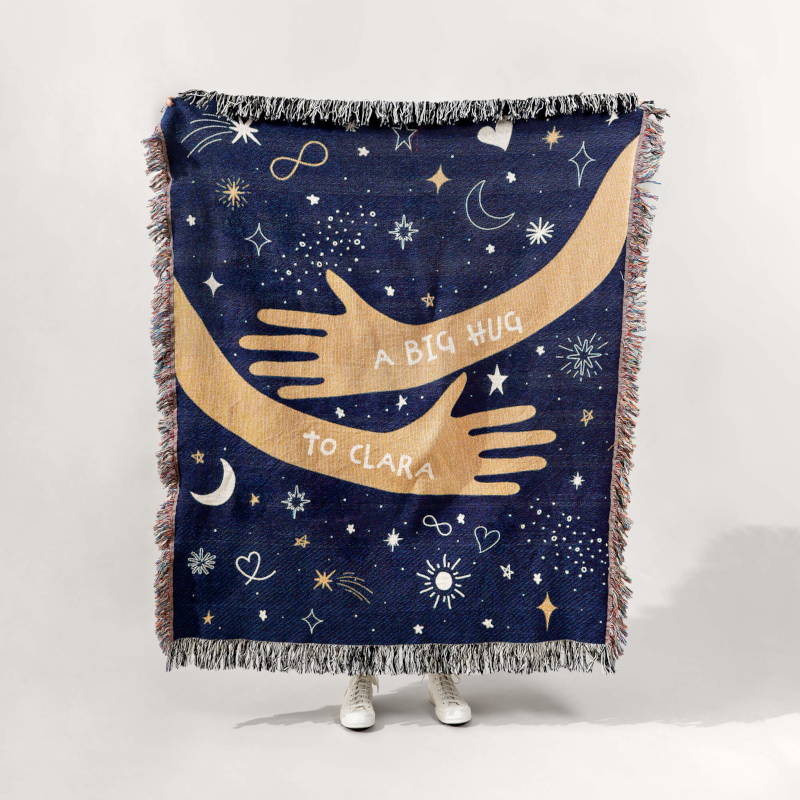 Every time I see this beauty, I'm reminded of the lyrics from the classic song Somewhere Out There:
"And even though I know how very far apart we are,
It helps to think we might be wishing on the same bright star"
This personalized blanket allows you to wrap those you care for in your love while sharing a unique message of your choosing.
Choose from two color options: blue or black. Both feature a celestial scene of moons, stars, galaxies, and other heavenly bodies. And both have a pair of arms that seem to appear from behind the blanket, anxious to wrap the recipient in a loving embrace.
Across the arms, your message of love and caring is displayed. Some of the examples we've seen that have made our hearts pitter patter include:
You mean the world to me

Longing to hold you again

I love you to the moon and back

I'm only a hug away
This blanket makes the perfect personalized gift for:
The high school or college grad moving away from home, striking out on his or her own, who may need a little reassurance that they are never alone

Family members who live far away and long for the day you can hug one another again

Sweet babes who are learning to sleep in their own beds at night, but may need the security of an extra pair of arms for cuddling

Service men and women, pledging to protect and serve, who are separated from those they love most for a season.
Sending the one who holds a special place in your heart a personalized woven blanket is sure to take their breath away and let them know exactly how you feel.
The Galaxy Blanket is available in three sizes, allowing you to customize the fit for each recipient (after all, what works for a child may not work for a soldier).
And we can't talk about these blankets without discussing the quality. What you won't find here is any screen printing—each blanket is woven from 100% cotton for an extra-luxe feel. Silky fringe borders the blanket, adding to the high-end texture, yet these blankets are easily cleaned at home. Simply wash on gentle cycle and tumble dry on low when your blanket needs a little refresh.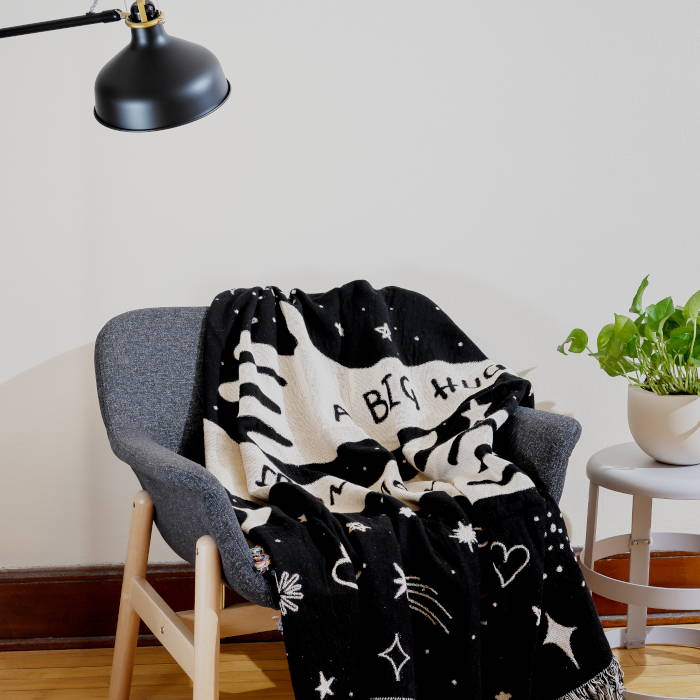 We just know your special someone will fall in love with their own Galaxy Hug Blanket. To begin the personalization process, simply click the link at the top of the post. And, if you have any questions regarding the process or product, we'd be happy to answer them for you. You may contact us any time by clicking here.
Here's to wrapping those we care for in a galaxy of love!